I have a weakness for books that mesh the modern world with a fantasy one. There is something about reading about werewolf mothers in the PTA, or fae working their cell phones, or even a vampire opening up a nail salon that just makes me want more. It's the genre that I write in. It is the one I am most inspired by.
Below are the books (usually the first in a series) that I love. The criteria for being on this list is that they have fantasy elements and (mostly) modern settings. The books could have romance in them, but romance was not the main theme. That's a whole other list.
10. Three Days to Dead, Dreg City, Kelly Medine
Not many authors would have the gumption to start their novel with a dead hero…but Medine does just that. Three Days Dead revolves around paranormal Hunter Evagaline Stone trying to piece together her broken memory and her slandered reputation among the other hunters while on the warpath to vengeance. What makes this novel different from a slew of other books in its same field is the timeline and the way it unfolds. Evangaline only has three days to solve the mystery of her own death before she…well…dies again.
9. Dark Fever, Fever Series, Karen Marie Moning
Karen Marie Moning is well known for her highlander-centric paranormal romance series but in my less than humble opinion the Fever series blows it out of the water. Southern lady MacKayla Lane is not satisfied by the investigation into her sisters death. So she quits her job, packs her favorite outfits (complete with pink nail polishes), and heads to Ireland to look into it herself. She discovers; with the help of super mysterious dude; that faeries are real, that she can see/hunt them, and that they had something to do with her sisters demise. Good times? Heck yeah.
8. Soulless, The Parasol Protectorate, Gail Carriger
I'm pretty sure this book is actually the love child between Jane Austen, Terry Pratchett, and Jules Verne. It's just that awesome. Alexia Tarabboti is a soulless woman with a quick mind and a desire to smack people with her parasol. She's is volun-told to investigate the disappearance of certain undead members of society and does so with an elegance and wit that has endeared her to me forever. So it's a little less 'modern' than others…there is steampunk…close enough.
7. The Wild Wood, Fearielands, Charles de Lint
I'm always a little surprised when people haven't heard of this book…then I remind myself that neither had I till a well meaning librarian shoved it in my hands. Considered one of the first urban fantasy books of the era Charles de Lint fashions a tale about a Canadian artist who isn't sure if she is seeing fearies or going crazy…maybe both. It's a wonderful book that makes a reader pause and wonder how they might feel if the paranormal world reached out to them for help.
6. Storm Front, The Dresden Files, Jim Butcher
It took me a really long time to pick up the Dresden Files. I had received a pretty bad review from a friend whose opinion I trusted on the matter…that was my bad. I like well done settings. I love reading someone who has thought about how the magic in their universe works, how people really respond to it, and how someone can work with it. I also like the main character. The problem I have with a lot of action based fantasy is the main characters tend to be practically perfect in every way…this is especially true if the main character is male. The main protagonist here falls into the cliche of investigator but is a very realistic character…for a wizard. Pick 'em up. You'll love it.
5. Mind Games, The Disillusionist Trilogy, Carolyn Crane
Remember what I said earlier about imperfect characters? I also tend to feel that way about MC who have names with alliteration. I call them Comic Book names (Peter Parker, Lex Luthor, Pepper Pots….) Well in this series we have Justine Jones. I picked up and put this book down several times just for that. Shame on me. Ms. Jones is a hypochondriac who is pretty sure she's gonna die like…any moment now. Fun fact: for magic reasons she can impart this particular feeling of sickness and dread on other people which makes for fun times. I loved this book not just because of its interesting take on the world of magical investigations but because it shows a form of mental illness that is often used a the butt of a joke and turns it into a super power.
4. Moon Called, Mercedes Thompson Series, Patricia Briggs
I love urban fantasy books with a female lead. The market is currently saturated with them so I can get overwhelmed by my choices. I looked over Patricia Briggs novels on many occasions not because I didn't want to read them but because there were so many other things to read. Don't let this happen. Mercy Thompson, mechanic and sometimes coyote is a wonderfully endearing character that I grew slowly attached to. While she does fall into the tropes of having multiple men interested in her for the things she can do rather than the person she is…she is aware of it and calls people on their BS. Love her.
3. Dark Currents, Agent of Hel trilogy, Jacqueline Carey
I am a Jacqueline Carey fangirl. I can't help myself. She builds great stuff with her words and I just can't seem to get enough but I have to admit that I was surprised when I found out she was doing something…you know…urban. Daisy Johannssen is struggling against accepting her demonic birthright, protecting her hometown, and answering to Hel…you know…the actual goddess, Hel. It makes for fun and quirky times that can get pretty serious.
2. Neverwhere, Neil Gaiman
No one needs to be told that Neil Gaiman is an excellent author. It's pretty much a known fact; it's right up there (down there?) with gravity. But Neverwhere is by far my favorite of his books. It is the companion book to the television series of the same name. It all takes place in the underground of London, following the misadventures of businessman Richard Mayhew. I think what endears me to the book is that it pulls Richard from his maudlin everyday and into a realm of fantasy that lives in time with our own.
1 .  Guilty Pleasures, Anita Blake Series, Laurell K. Hamilton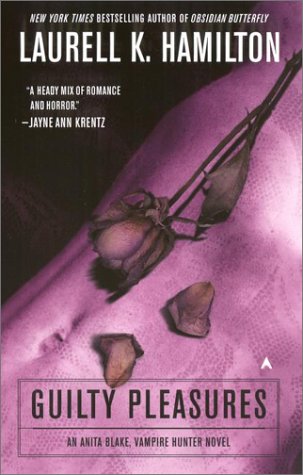 Anita Blake, Vampire Hunter. This is Hamilton's quintessential work and it pretty much rocks. Anita is an animator who sometimes works with the police as the preternatural expert and is the licensed vampire hunter of her area. She's a busy lady who stretches her morals to protect the people she cares the most about. The series comprises almost 25 books and novellas and even has a comic series that follows the books…word for word. Now, I'm not going to say the books are perfect. There are flaws. What I am going to say is that Hamilton creates a word that you can almost taste…and it's delicious.